Laissez Les Bon Temps Rouler with Charter Flights to Mardi Gras!
Mardi Gras has an international reputation as the party day to end all party days, but the truth is that the beginning of the Lenten season is so much more than that. The month-long festivities begin on the Epiphany and until Fat Tuesday with colorful, extravagant parades of floats, dancing groups, costumed marchers, and more sponsored by dozens of lrewes, which are civic organizations that put on Mardi Gras parades and balls.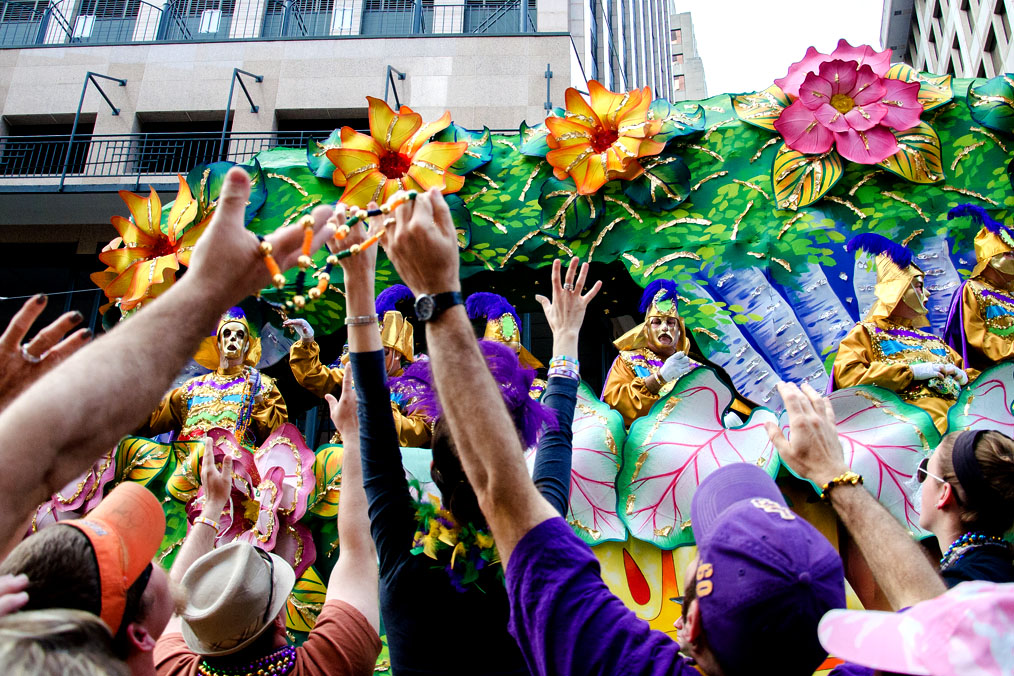 And these parades and parties aren't confined to just New Orleans. Dozens of Louisiana towns celebrate as well with their own local traditions, the presentation of debutantes, costume contests…even a chicken run. These local celebrations are often family-friendly. One example is the weekend Family Gras in Metairie with kid-friendly parades, food, arts, games, crafts, and big name music acts take center stage. You can get a behind the scenes look at all that it takes to put on Mardi Gras from a local tour operator like Mardi Gras World — the floats are amazing! You'll also want to visit New Orleans' most iconic boulevards and neighborhoods, all festive for the season. NewOrleans.com has tons of itineraries for all types of interests that turn your Mardi Gras trip into a true celebration of Louisiana.
Now that you know that Mardi Gras is a full-blown vacation destination for a weekend or even a week or more, you can really spend the time to soak in the most unique celebration in the most fascinating metropolitan area in the United States. And, the best way to get to your Mardi Gras destination is a Pennsylvania charter flight or New Jersey charter flight right into a New Orleans regional airport. You'll avoid the crowds, have plenty of room to bring back all your beads and souvenirs without having to pay for checked baggage, and can come and go as you please without being at the mercy of a commercial airline's schedule. And, you can fly direct — which can be a challenging flight to find at Mardi Gras time on a commercial airline. No one wants to wave at New Orleans as you pass by on your way to Houston first! Fly right in on your charter instead. Leave on a Friday, spend the whole weekend through Tuesday enjoying all Mardi Gras has to offer, then head home after you sleep in on Wednesday. You set the schedule.
There's no better way to visit New Orleans than a charter flight. You'll be relaxed and have your own peace and quiet on the way home just in case you need it. Just say no thanks to commercial airline hassles like early morning flight times, security lines, baggage fees, and bumped flights. Start the Mardi Gras party as soon as you step on your charter flight. Call Leading Edge today and laissez les bon temps rouler!